Where Adventure and Night Meet
The Arelauquen Hut is so much more than a mountain restaurant. It's a mountain experience you'll never forget that begins even before you get there and stays with you long after you're gone.
Getting to the hut, located on the southern summit of Mount Otto, in a natural viewpoint 1,300 meters high, is an adventure in itself: it combines an invigorating ascent in 4x4 trucks that go over mysterious and defiant mountain trails to later follow a magical road on snow bikes, an unforgettable journey on winding trails across the deep silence of the forest. A beautiful and ancient road full of lengas covered in snow under the stars.
After the adrenaline and charming ascent, quietness and warmth await you in a hut like you've never seen before. You can relax by the fire and candlelight, with a stunning view: our wooden deck covered in snow gives you the most incredible view of Nahuel Huapi, Moreno and Gutiérrez lakes. You'll have an unmatched, magnificent view of the Andes, the impressive and beautiful Patagonian landscape, while you try a selection of cold cuts and cheeses, olive focaccia bread, the most delicious cheese fondue, and exquisite dessert: chocolate fondue, fruits and pastries.
Champagne or wine? Your choice.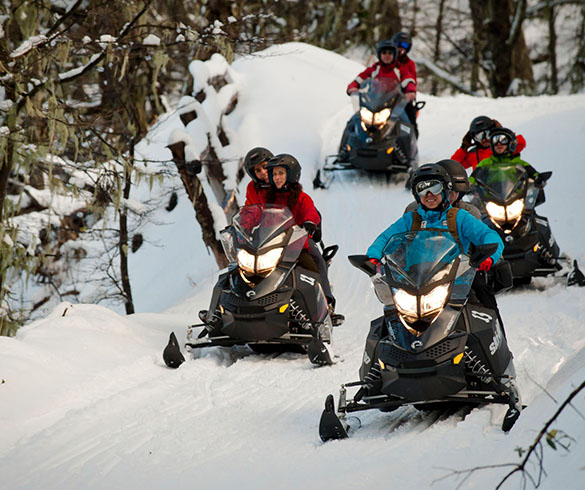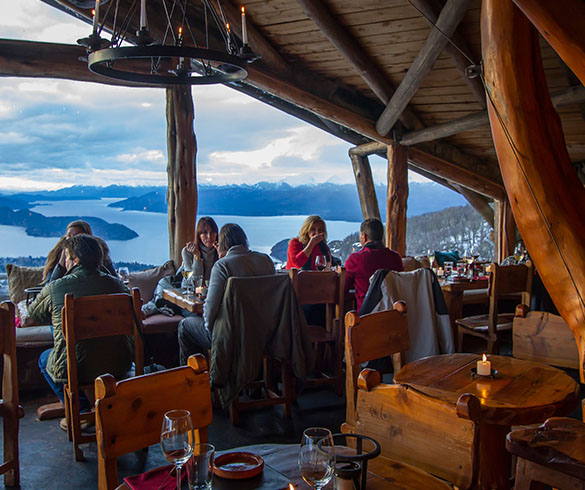 Important: This tour depends on weather conditions; therefore, the people in charge of the Hut may suspend the activity even on the same day of booking. This will be the case if the road is not suitable for the tour or if compliance with all safety measures cannot be assured by the professionals that guide you to the hut. If this happens, you'll be fully reimbursed.
Available times for booking: 6:00 p.m.; 7:00 p.m.; 8:30 p.m.; and 9:30 p.m. (A maximum of 16 people per tour will be admitted.)
Ask for tours at noon and special group rates.
We suggest wearing adequate clothing for the ascent (cap, gloves, waterproof clothing, good footwear.)
For more information, call us at (0294) 4 476-154 or write to [email protected]