Feeling the heart of the mountain in your own heart.
Get ready to explore the depths of the mountain through narrow canyons surrounded by stunning vegetation. Discover amazing landscapes, accessible only to those willing to embark on this adventure. You will enjoy the most intense outdoor sports: trekking, rappelling, ziplines, jumping from natural springboards, swimming, climbing… Packed with emotions and sensations in a unique experience that you will never forget. Fun is 100% guaranteed!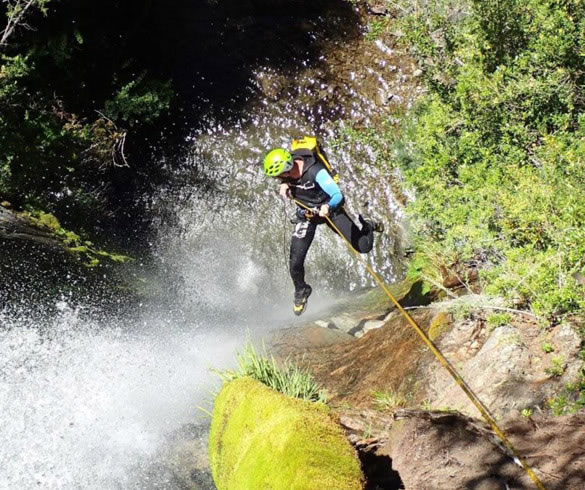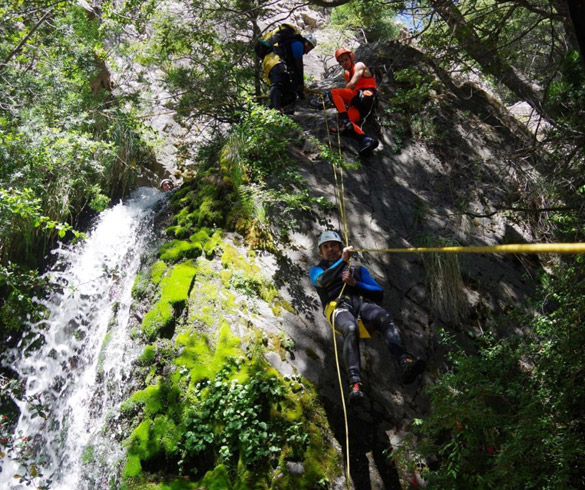 Adrenaline, sunshine and water
After a 20-minute ascent, we will get to the beginning of the canyon. First of all: be equipped! Neoprene suits for cold water, helmets and harnesses, followed by a brief lesson on safety measures. We are all set! Ready for the adventure? Our way goes down and the magic begins! We will first enjoy small rappelling and crystal-clear water wells, until we reach a wonderful natural slide (yes, you can repeat this experience, and yes, we can assure you it's totally worth it!). We move forward until Salto del Vasco, a 30-meter cascade, where we will have two options to continue our descent: rappelling, or an amazing zipline overlooking the lake. We will go on to a breathtaking pool, and continue trekking using handrails. Last stop: rappelling in Cascada de la Virgen. Too intense for you? Imagine experiencing it by yourself!
Fitness is required. Bring a towel, swimsuit (optional) and a coat (cold days)