How far are you willing to go?
If you're looking to spend a great day with the family, Kayak tours are ideal. Everyone can take part, regardless of their age. There are half-day and full-day guided tours, as well as tours of two or more days. The tours are available all year-round.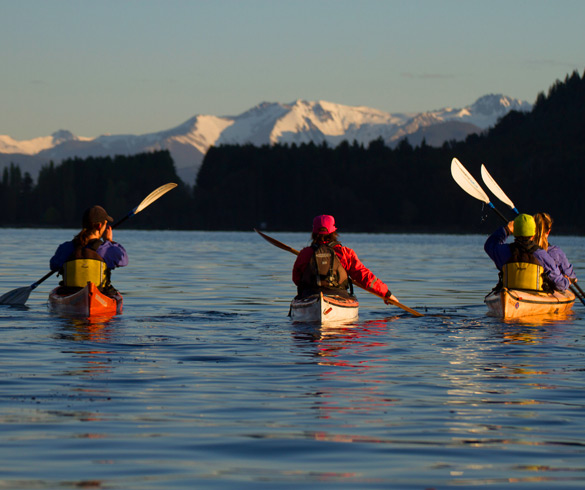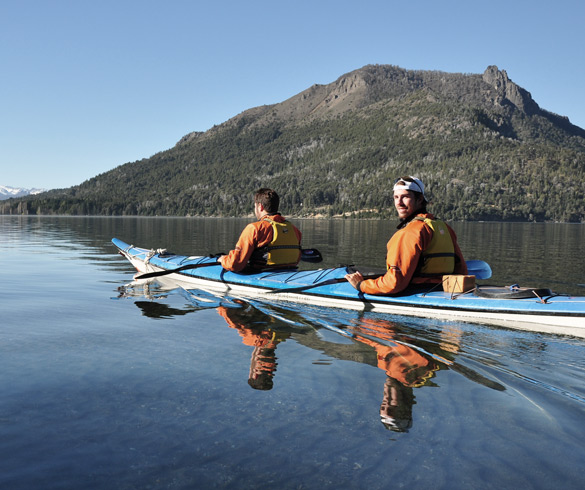 Explore the shores, majestic scenery, the bay's unique flora and fauna and with the backdrop of the snow peaked Andes.
Single and double kayaks have dry compartments so that you can carry equipment and food. Kayaks are extremely stable, so the inexperienced and people with disabilities can enjoy this wonderful adventure.
There is some safety training Before setting off. Water-proof jackets, mittens (if the weather requires them), life jackets and flaps are all provided for so you only need to bring a pair of sandals or shoes that you don't mind getting wet.
Accompanied by a specialized guide, you will explore a range of lakes: Nahuel Huapi, Moreno, Gutiérrez, Mascardi, Los Moscos, Hess, Fonk, Roca, Guillelmo and Steffen, among others. The tours include transportation, meals, gear and bilingual guides in all tours, in addition to tents and kitchenware. If the trip is for more than one day, kayakists need only bring their own sleeping bag and insulating mat.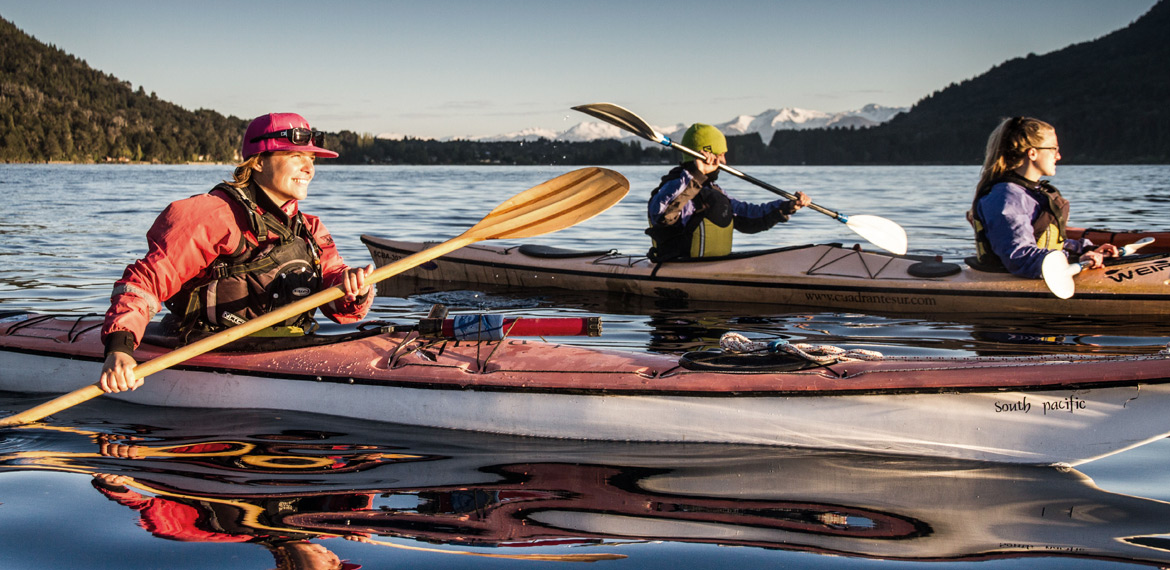 River Kayak and Duckies
Bariloche and its surroundings offer a great variety of lakes and rivers that are ideal to practice kayaking. The lakes and rivers range in difficulty, from calm waters to the most challenging rapids (class 5), so that beginners can take it slowly and progress gradually.
Since no special skill is required, kayaking is a great sport for both kids and adults. Although, it's necessary to master some basic techniques to begin with so it's best to start slowly (in calm waters) and progress in accordance with your own learning curve. Once you have mastered these basic skills, the possibilities are limitless, both for going down rivers and for slalom and rodeo or freestyle techniques.
Sailing in duckies or inflatable kayaks is the most rapidly growing water activity in the last few years. These are extremely stable, easy-to-manage boats. There are guided tours in the Manso and Limay rivers.
It doesn't matter if you can't swim.