Discover Deep Bariloche
Bariloche offers adventure in the sky, on the ground and also underwater! We invite you to explore a new world, hidden in the clear depths of underwater Pagatonia. You'll see the most spectacular colors and shapes of an entire natural universe in the clearest water you could ever imagine.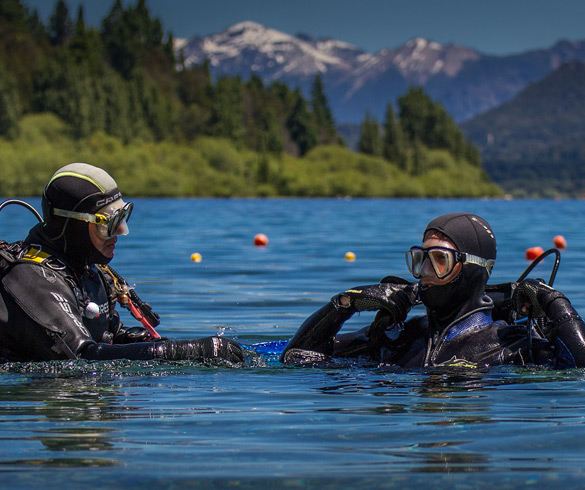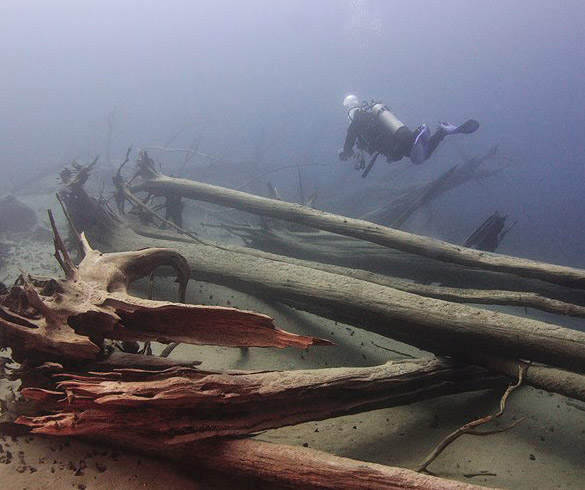 Water temperature varies depending on the season and the size of the lake. In late summer, for example, the temperature of the Nahuel Huapi Lake is between 13° and 14° Celsius. Diving using a wetsuit is possible all year long, and 5- to 7-mm thick wetsuits with two pieces -boots and hood- are recommended. This kind of suit lets little water in, which is easily heated by body temperature. Temperature remains warm within the suit.

Our instructors are authorized by the Administration of National Parks and by the Argentine Coast Guard. They also have insurance. They work under the safety rules and procedural standards of the PADI (Professional Association of Diving Instructors) and OLAS (Latin American Organization of Undersea Activities).

Beginners scuba-diving
A first-time diving experience takes about 2 hours. It starts off with a brief explanatory talk on how to use the diving equipment, what each element is used for, diving techniques, and the signals used for underwater communication. After this, everyone gets geared up and ready to practice, first in shallow water at hip level and then, full diving.


This first scuba-diving experience does not require previous knowledge. Everyone above 10 years old can do it, provided they are in good health.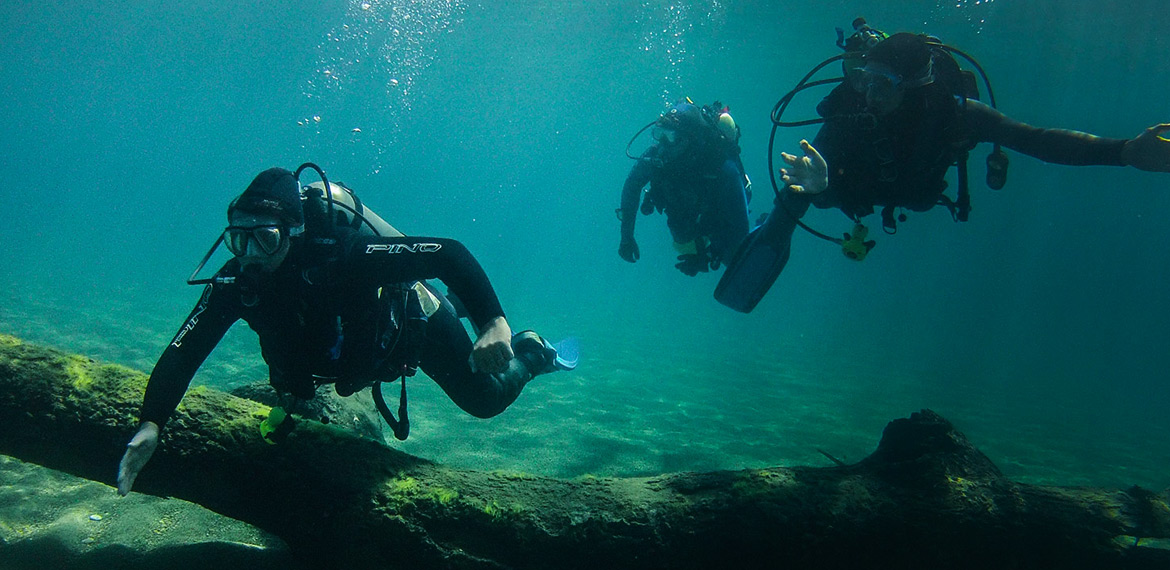 Where can I practice scuba diving?
LA ANGOSTURA CREEK
Located 8 kilometers away from downtown Bariloche, on the shore of the Nahuel Huapi Lake, this is one of the most popular beaches in the area, which serves as the perfect environment for reconditioning diving, courses, first-diving experiences or scuba-diving for divers with little experience.
MORENO EAST / WEST
Fausto Tour - This tour kicks off in Pascasio Bay, stretching along an area full of subaquatic plants until a continuation of the 20-meter-deep wall is reached. Good for both amateurs and experienced divers.


Cachete wall - Located in the left-side area of Moreno Oeste,, this is only for experienced divers with a two-star certification onwards. This dive includes a 50-meter deep wall and is available all year round.


Bunny Island - This is a very attractive tour considering the island is reached only by boat. Once there, divers explore all the area underwater.

Seagull crag - Massive rock formation that is joined to the peninsula underwater. This location is reached after a 15-minute boat ride and is located right in front of Llao Llao hotel, with water visibility at 15-20 meters deep. Recommended for experienced divers only.

TOURS FOR CERTIFIED DIVERS
This is recommended for scuba-diving experts only, as it is performed on a wall that goes 37 meters deep, in Moreno Lake. You should wear a wetsuit if you're diving in summer. As for the rest of the year, you should wear a drysuit. From September to May, you can see rainbow, brown and salmon trouts, perches, puyenes, and velvet catfish. There are also lobsters, crabs, freshwater snails and clams.
Best Scuba-Diving Season: November through April. Water temperature: in winter, 2° to 4° Celsius. In spring and summer: 8° to 12° Celsius.